What is a Bridge?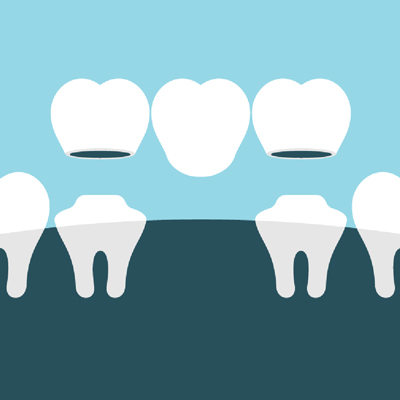 A removable bridge is designed to replace chipped or missing teeth. Like its name intends, it's designed to "close the gap" in a smile.
At the practice, we offer both fixed and removable bridges. A fixed bridge is cemented into place and involves attaching crowns to the patient's natural teeth. The crowns are then attached to a tooth in the middle designed to fill the gap of the missing tooth. Fixed bridges are cemented into place and can't be removed.
A
removable bridge
can be taken out and generally costs less than a fixed bridge.
To be a candidate for a dental bridge, a patient needs to have natural, functioning teeth on either side of the missing tooth. This is how the bridge is attached. If they don't, one or multiple implants may need to be placed to attach the bridge to.
When a patient decides to undergo this treatment, care begins by preparing abutment teeth and then taking digital scans of their mouth. Those scans will be sent out to a lab where the custom bridge will be designed. After about 2-3 weeks, the patient will come back and have the bridge placed. If implants are a part of their treatment plan, they'll need to visit an oral surgeon or a periodontist to have their implants placed, and will return to our practice for bridge placement when they have fully healed in roughly three months.
Ready to Learn More?
We'd love to welcome you into the practice to learn more about dental bridges and how they can improve your smile. We're happy to accept most major PPO dental insurance plans, and will work to verify your benefits so there are never any surprises when it comes time for care.
Contact us today to get started. We look forward to meeting you!
CONTACT US

Dental Bridges West El Paso TX | (915) 584-0400