Whatever the case may be, our dentists are happy to offer patients of all ages and stages of life the chance to revitalize their smile with dental implants.
If you're wondering whether or not you're a candidate, the best way to find out is to book a visit with the team today.
What Are Implants?
A dental implant is a titanium rod that's placed into the area where a tooth once was. The implant is designed to act as the missing tooth's root, so that eventually, a natural looking crown can take its place.
There are generally three steps that go into achieving an implant.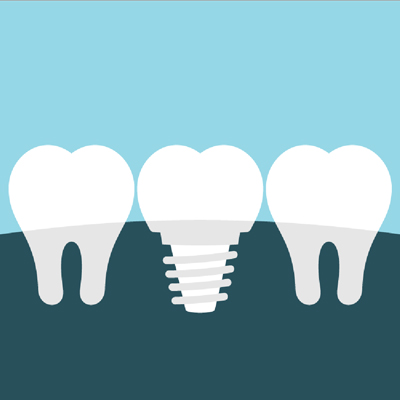 After a patient has had a consultation, they'll be referred to an oral surgeon, who will extract any teeth necessary and place the implant. If the tooth is already missing, no extraction will be necessary. Patients will be completely comfortable during the process as sedation is offered. Once the implant is placed, a patient will heal for a few months as the implant and jaw bone fuse together. This process allows the two to become one, and offers great strength and durability for the crown to be placed.
Once a patient has healed, and has been cleared by the surgeon, they'll return to our practice for impressions.This is typically done with our CEREC machine. This scan is sent to a lab who will fabricate the abutment for your crown.
About 2-3 weeks after the impression is done, you will return to our office for seating of your abutment and crown, which is usually screwed into place as one piece. After the crown is placed, the process is complete. The patient can now beam with confidence.
Learn More Today
Curious whether implants are right for you? We'd love to welcome you into the practice so that you can learn more. Contact the team today to get started. If you have PPO insurance, let us know ahead of time so we can verify all benefits before your consultation. Get started today!
CONTACT US


Dental Implants West El Paso TX | (915) 584-0400