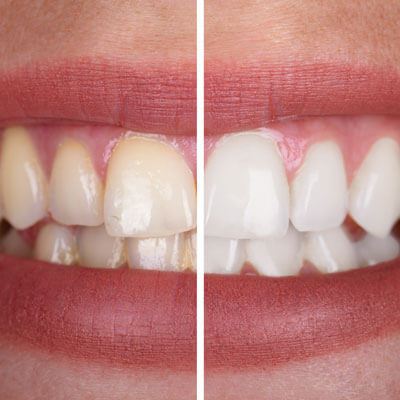 In-Chair Whitening
Dr. Stein and Dr. Daryl are proud to offer an in-office teeth whitening system, which offers patients incredible results in just under one hour. With in-office whitening, a person can brighten their smile several shades. Though they may walk into the practice with dark or dull teeth, they're sure to leave with a brighter, stunning smile.
In-chair whitening uses a special gel to brighten teeth in a safe, effective way that achieves much better results than over-the-counter products.
Patients who make the best candidates for whitening are those with no current tooth decay or gum disease, and those without front tooth restorations.
Take-Home Kits
Looking for a way to brighten teeth from the comfort of a couch? Take home kits can be purchased at two different strengths. After take home kits are purchased, patients are free to whiten at home using advanced whitening gel provided by the practice.
Our dentists will discuss desired results with patients and explain how to effectively use take-home kits to get a beautiful smile.
Unlock a Brighter Smile
Don't live with a dull smile. Instead, beam brightly with in-chair whitening or take-home kits. Contact Stein Dentistry today to learn more about teeth whitening and book a visit!
CONTACT US

Teeth Whitening West El Paso TX | (915) 584-0400